Aluminum strip for nose bridge
Author: Nydia
View:
Time: 2020-04-21 16:47
Aluminum strip for nose bridge mainly use pure aluminium strip 1050 and 1060, the thickness is 0.4-1.0mm, the width is 5.0mm, the length is 90mm. Aluminium strip for nose bridge of face mask adopt industrial pure aluminum as raw material, which is recyclable and friendly to the environment. The aluminum strip for face mask has features of firm adhesion, no degumming, bending resistance, no fracture, smooth surface, no burr, round elliptical fillet, no scratch, no rebound in bending, good setting effect.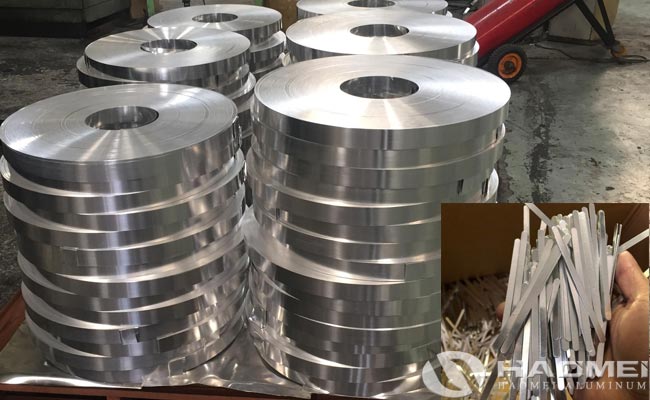 The application scope of aluminum strip for nose bridge are N95 mask, KN95 mask, N90 mask, surgical face mask, disposable face mask and so on. The aluminum strip product features are safety and environmental protection, in line with export standards, good shaping effect, can effectively fit mask and face skin, can effectively block dust, smoke, influenza virus, etc., give full play to mask function. The common seen specifications are: 0.4 * 5.0 * 90mm, 0.5 * 5.0 * 90mm, 0.8 * 5.0 * 90mm, 1.0 * 5.0 * 90mm.
Due to the corona virus, the need for face mask is greatly increased on the market, so the demand for aluminum strip for nose bridge of face mask is improved. The aluminum strip products supplied by Haomei aluminum have the following advantages:
1. Rust proof, corrosion proof, high brightness.
2. The holes on the surface of aluminum strip for face mask are uniform, with good straightness, no deformation and stable size.
3. High strength, good toughness, can be bent into any angle with bending equipment.
4. Ensure the activity of molecular sieve and excellent adhesion with all kinds of adhesives.
Keywords:
aluminum strip for nose bridge, aluminium strip for nose bridge, aluminum strip for face mask nose bridge, aluminum strip