Aluminum Strip for Ductwork
Author: Nydia
View:
Time: 2020-11-27 17:15
The primary alloys and components of aluminum strip for ductwork are 1100, 1200, 8011, 3102, etc. Whether it is made of hot-rolled billets or cast-rolled billets, the primary alloy components should be meet the requirements of GB 3190-2008. However, at the time of production, the actual control composition scale of different aluminum strip manufacturers is different. The control scale of its chemical composition is mainly to consider the product's tensile strength, elongation and cupping value and other technical indicators to satisfy the user's request.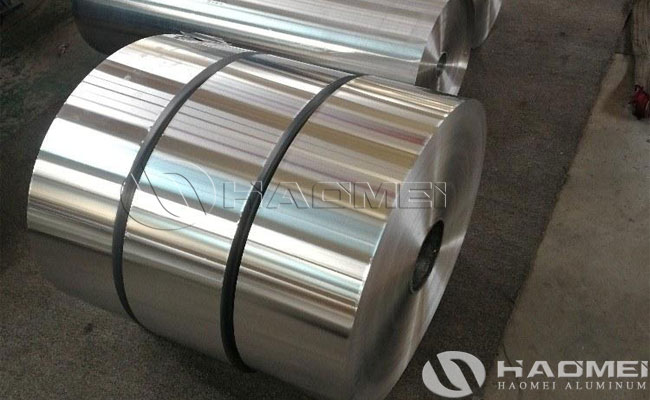 The surface of the aluminum strip for ductwork should be flat and clean, and no defects such as corrosion, holes, creasing, brown oil spots, and open seams are allowed to affect the application. The temper of aluminum strip for air duct is O soft, the water-washing test on the surface should not be lower than Grade B. At present, the application thickness of air duct aluminum strip is usually 0.10-0.12mm, and there is a tendency to reduce the thickness to 0.090mm.

There are usually two forming methods for aluminum strip for ductwork: one is the stretch forming method, which has a slower forming speed, and requires a large deep drawing ability for air duct foils. Due to the low tensile strength, the thickness of the aluminum strip is relatively thick, usually above 0.11mm; the other is the thinning stretch forming method, which has a faster forming speed, and the thickness is usually below 0.11 mm. It is required that the aluminum strip not only has certain plasticity but also should have higher strength. That is to say, different forming methods have different functional requirements for air duct aluminum strip. According to the needs of the shopping malls for air duct aluminum foil, it is requested that the forming technology of stretch forming and stretch thinning is satisfied, and it is expected to obtain H22 air duct aluminum strip, the strength is 120-130MPa, the elongation is over 18%, and the cupping value is over 6mm.
Keywords:
aluminum strip for ductwork, aluminium strip for ductwork, aluminum strip for air duct