Aluminium Foil For Transformer Usage
Author: Nydia
View:
Time: 2021-01-05 16:04
Aluminium foil for transformer usage utilizing the good electrical conductivity of aluminum, it produces burr-free and trim-free aluminum strip instead of copper strip as a common material for transformers. Haomei Aluminum is one of the first transformer aluminum foil strip manufacturers in China to develop and produce special aluminum strip for transformers. How to make transformer aluminum strip without burrs and trimming?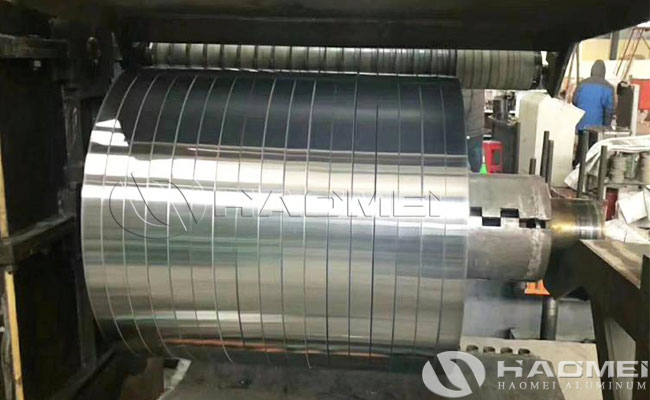 1, The process of making transformer aluminum foil strip without burrs:
Speaking of burr-free aluminium foil for transformer usage, the most important thing is that the technicians have experience and care. Every time the finished product is produced, the operator should pay attention to the order and method. Do not over-tension or Too small, the stability of the machine is also an important aspect of achieving burr-free aluminum strip.

2, Attention should be paid during the slitting process of aluminum foil for transformer:
In the actual use process of aluminum strip slitting, two people are generally required to cooperate. This requires the cutter to be equipped with front and rear safety covers. When the safety cover is opened, the motor will not move to ensure safety.

3, The double button operation principle of the aluminium foil for transformer usage.
The operating principle of the slitting machine with double buttons. This requires two buttons to be pressed at the same time, otherwise the cutter motor will not move, which can ensure absolute safety of single-person operation. When replacing the blade of the cutter, be sure to use the knife holder to ensure that the blade edge is closed , which not only guarantees the safety of people, but also ensures that the cutting edge is not damaged. In addition, the removed blade must not be left arbitrarily to avoid injury to people. Therefore, you must pay attention to safety when using various cutters such as automatic cutters, CNC cutters, and program-controlled cutters, to avoid injury to people and equipment.
Keywords:
aluminium foil for transformer usage, aluminium foil for transformer, aluminium foil for transformer