Aluminum Strips For Medical Bottle Cap
Author: Nydia
View:
Time: 2020-12-17 16:36
Haomei supply aluminum strips for medical bottle cap with colors coated and different alloy strips. And aluminium strips can used for the production of medical bottle caps, aluminum anti-theft caps for wine and beverages in various colors and specifications. Haomei 3105 and 8011 aluminum strip is used to make medicinal bottle cap material, which is safer and more beautiful and makes people feel at ease to use.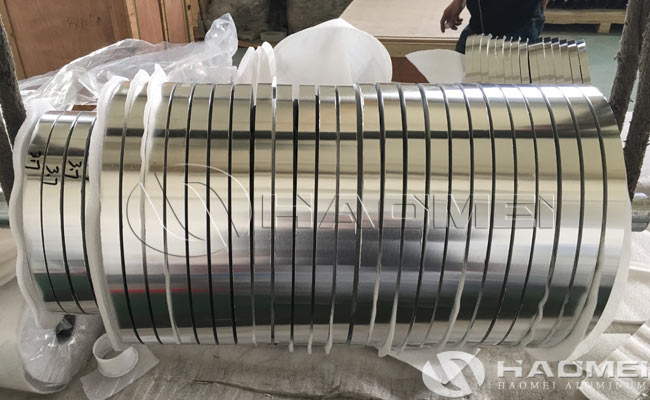 Haomei Aluminum is a manufacturer of aluminum strip for medical bottle caps. The 8011-H14 aluminum strip and 8011-H16 aluminum strip produced by the company are the source of aluminum strip raw materials for various aluminum medical cap material factories at home and abroad. The 8011 aluminum strip for caps used in the production of aluminum medical bottle caps has multiple advantages such as food grade, clean oil removal, fewer pinholes, and good product shape. The casting-rolling production process is simple and the yield is high, so most of them are used in some products with low requirements and shallow punching depth, such as medical bottle caps, easy-open can caps, and other products.

Aluminum alloy grade 8011 aluminum strips for medical bottle cap is mainly used for the production of medicinal bottle caps. It has excellent moisture-proof performance, non-toxic and tasteless, safe and hygienic. The bottle cap material of aluminum strip is mainly used on the bottle cap of the can, and the thickness control is extremely accurate, can guarantee the thickness tolerance of ±0.005mm, has the characteristics of good strength, corrosion resistance, good machinability, etc., high surface smoothness ensures stable post-processing, not easy to deform during transportation, and the bottle and can maintain a beautiful shape, which fully meets customers demand.
Keywords:
aluminum strips for medical bottle cap, aluminum strips for bottle cap, aluminum strips for cap