Aluminum Strip For Lamp Base Cap
Author: Nydia
View:
Time: 2021-11-04 14:54
Aluminum strip for lamp base cap alloy is currently one of the more commonly used materials in lamp manufacturing. Major lighting material companies and lamp companies mostly use 3003/3004 hot-rolled aluminum strip to make lamp caps. The lamp holder factory has a wide range of products, and the spiral lamp holder chooses 3003 hot-rolled aluminum strip/3004 hot-rolled aluminum strip. Some fluorescent lamp holders may use 1000 series or 3000 series aluminum alloy strips. At present, Haomei Aluminum has a large supply of aluminum alloy strip for 3003/3004/3104 lamp holder materials.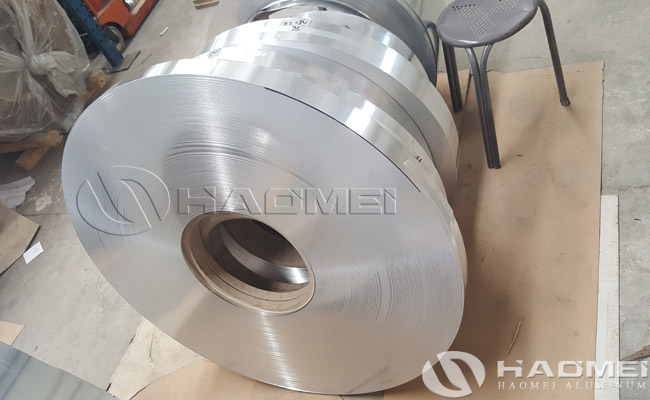 With the steady and rapid development of economy, the demand for aluminum strip is also increasing. In order to adapt to market demand, optimize product structure and increase product categories. Haomei Aluminum built a modern aluminum strip for lamp base cap production project. It includes two parts: hot rolling production line and cold rolling and finishing production line. All aluminum strip products of hot rolling production line are supplied to cold rolling as raw materials. Among them, the hot-rolled aluminum strip for lamp base production line is one of the main construction projects of this project. This hot-rolling production line is a semi-continuous rolling production line, and the production scale is: an annual output of 236,000 tons of hot-rolled aluminum and aluminum alloy strips and coils of various specifications. Product specifications: coil thickness 2.5~10mm, coil width 950~2100mm, aluminum coil inner diameter Φ610mm, aluminum coil outer diameter maxΦ2100, maximum coil weight max18t.

The hot-rolled aluminum strip for lamp base cap production line belongs to a semi-continuous hot-rolling unit, which consists of four sections: heating zone, rough rolling zone, finishing rolling zone and curling zone. The main equipment includes milling units, pusher heating furnaces, vertical roll edge mills, four-high reversible roughing mills, heavy shears, light shears, F1~F3 finishing mills, coilers and other mechanical equipment, emulsion, hydraulic lubrication equipment, etc.
Keywords:
aluminum strip for lamp base cap, aluminum strip for lamp cap, aluminum strip for lamp base