Thin Aluminium Strip Products
Author: Nydia
View:
Time: 2021-08-26 16:59
Haomei Aluminum offer thin aluminium strip products for transformer, cable, shutter, lamp base, caps and face mask nose bridge. The deep-drawing aluminum strips put forward various requirements that seem to be opposed to each other to a certain extent. It must be isotropic in the rolling plane, and at the same time, it must have high plasticity that can ensure the required elongation coefficient. In addition, Some products produced from thin aluminium strips require higher strength. The aluminium strip production process includes: hot rolling to 3-6 mm, cold rolling to the final size, with or without intermediate annealing and final annealing.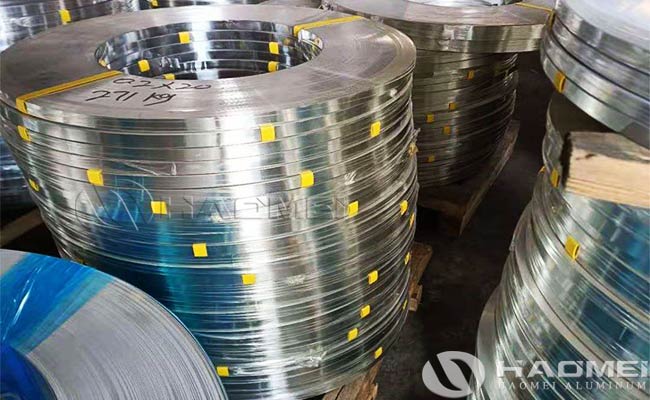 To manufacturing high quality thin aluminium strip products, the advanced production line is necessary. Haomei Aluminum adopt advanced thin aluminium strip processing equipment line. The unit has many characteristics such as high precision, excellent aluminium strip surface quality, resource saving and high operating energy efficiency. All equipment and configurations of the aluminium strip production line are aimed at producing products with high surface quality. For example, the thin aluminum strip treatment process starts with a thorough alkaline pre-cleaning and rinsing, and a secondary cleaning is set in the main cleaning section before coating. In the secondary cleaning process, the oxides on the surface of the aluminium strip are removed by alkaline washing and acid washing to form an activated state of the strip surface suitable for coating.

The tension leveler is used to optimize the thin aluminium strip products shape required by the subsequent coating process. The tension leveler automation system is adjusted according to the characteristics and specifications of different aluminum strip materials.
Keywords:
thin aluminium strip products, thin aluminium strip, aluminium strip products