Aluminum Strip For Candle Cup
Author: Nydia
View:
Time: 2021-07-15 17:14
Aluminum strip for candle cup, shell, case and candle holder is suitable for tealight candle with weight 7g, 8g, 10g, 11g, 12g, 13g, 14g, 17g, 23g. The processing method of aluminum strip for candle shell are melting, casting rolling, rough rolling, homogenizing annealing, intermediate rolling, trimming, finishing rolling, finishing annealing and other steps. Haomei Aluminum produce bright and scratch-free aluminum strip coil 3003 3005 H24. H14, H16, H18, we can produce alloy thickness: 0.4-4.5mm, and we are committed to stamping various aluminum foils, aluminum strips, aluminum rolls, aluminum coil products and various types of aluminum boxes required for candles.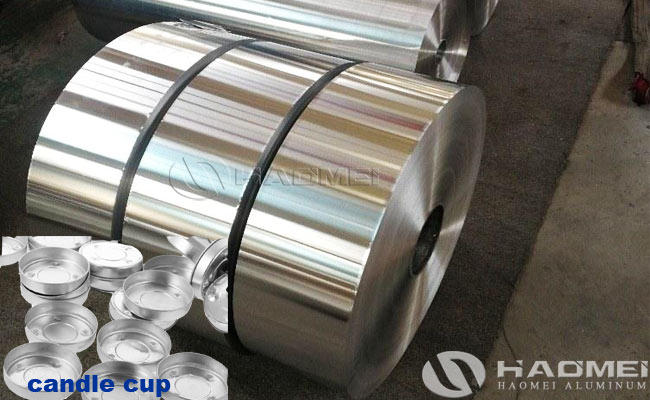 The aluminum strip for candle cup is a high-purity aluminum alloy product formed through processes such as hot rolling, cold rolling, annealing, stretching and straightening, and aluminum foil rolling. The material to produce candle shell requires acid resistance, heat resistance, shock resistance, high strength, and a thin shell wall. 3003 and 3005 aluminum strip coils are very suitable for use as tea light shell materials. The candle shell aluminum strip coil materials produced by Haomei Aluminum have passed a strict quality standard system to produce products with high strength, corrosion resistance, high temperature resistance, radiation resistance and fast heat dissipation, ensuring excellent product performance.

The product performance advantages of aluminum strip for candle cup are:
1: Low ear making rate, good deep drawing performance and welding performance.
2: While ensuring acid resistance, heat resistance, and shock resistance, it has high strength and thin walls.
3: Resistance to impact, vibration, extrusion and bumps.
4: Under the chemical action of ultraviolet radiation or atmospheric erosion, there will be no discoloration and brittleness, and it is anti-oxidation.
Keywords:
aluminum strip for candle cup, aluminum strip for candle shell, aluminum strip for tealight candle