Aluminum Edging Strip
Author: Nydia
View:
Time: 2021-05-25 16:27
The quality of alloy aluminum edging strip is very good, and the colors are diversified according to the customers needs. There are more aluminum alloys for edge banding, such as 1060, 1070, because aluminum alloys will not rust, can have a variety of colors, and will not be affected by temperature differences. There are PVC, ABS and Acrylic edge materials, they are also very cheap materials, but they tend to become soft or brittle under the influence of weather, so many foreign customers also order aluminum alloy strip for edgings.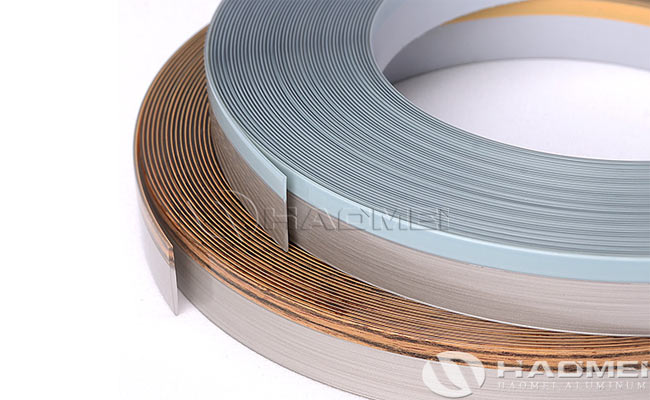 The aluminum edging strip have width of 12-54mm, thickness of 0.4-3mm. Aluminum alloy edge banding strip is more and more popular with consumers because of its good edge banding effect and exquisite appearance. The main function of the edge banding aluminum strip is to seal the cross section of the board so as to avoid the damage of the board by the unfavorable factors in the environment and the use process and prevent the volatilization of formaldehyde inside the board, and at the same time achieve the effect of beautiful decoration. Aluminum strip alloy edge banding is a more popular form of edge banding, and it is well received by everyone.

The flat aluminum edging strip is formed by high quality aluminum base material. The surface of the edging product has a strong metallic texture, will not crack the edges, and has a long service life. Aluminium edging strip it is an ideal product for edge-sealing furniture with metal effects. The surface treatment can be mainly spray surface treatment, because of the variety of colors, it can meet the requirements of different customers. Haomei Aluminium is a professional aluminum strip for edging manufacturer in China, the quality of batch products is stable, the surface is scratch-resistant and has good wear resistance, it is not easy to deform and not easy to age.
Keywords:
aluminum edging strip, aluminium edging strip, aluminum edging strips, aluminium edging strips