Aluminum Foil for Distribution Transformer
Author: Nydia
View:
Time: 2021-02-24 17:05
Haomei aluminum foil for distribution transformer adopts the most advanced technology and the introduction of foreign high-precision equipment. Haomei Aluminum chamfer the edges of the aluminum strip, so that the produced aluminum strip for transformer are rounded in edge, which is better deal with the generation of edge burrs. It has been sold to all large, medium and small transformer factories across the country and has won unanimous praise from users.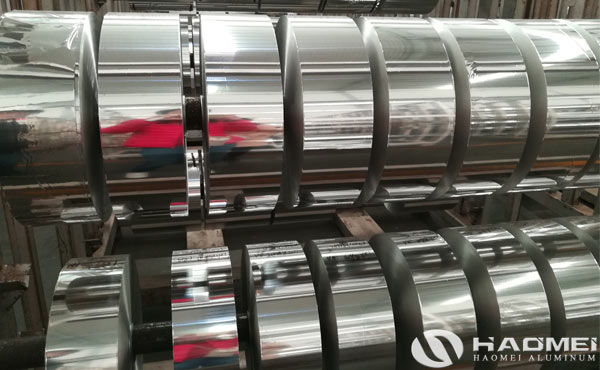 Most aluminum strip manufacturers have imperfect edge processing technology in processing dry-type transformer aluminum strip, and cannot achieve perfect chamfering, which will greatly affect the application quality of aluminum foil for transformer. How to master these technical processes and the perfect application of aluminum strip on transformers. First of all, the incoming aluminum coil must comply with the aluminum strip used in transformers. The main raw material is 1060 O temper aluminum coil. Other grades are: 1050, 1050A, 1060, 1070, 1070A, 1350, temper: O temper, O means soft temper, the number can be used to indicate the degree of softness and hardness, and the degree of annealing. The thickness is between 0.08-3.00mm.

Haomei Aluminum has introduced high-precision aluminum coil slitting units from abroad and independently developed edge chamfering technology with high-precision round edges and fillets. Aluminum foil for distribution transformers are made of high-quality pure aluminum, which has the characteristics of high conductivity, softness, smooth surface and no burrs. It is an ideal material for the production of dry-type transformers and a key raw material for manufacturing transformer windings. There are high requirements for multiple technical indicators such as electrical conductivity, burr curling, side bending, and surface quality of aluminum strip and foil.
Keywords:
aluminum foil for distribution transformer, aluminum foil for transformer, aluminum strip for transformer