Colorful Aluminium Bottle Cap Strip
Author: Nydia
View:
Time: 2022-03-17 16:53
Colorful aluminium bottle cap strip are mainly used in the packaging of wine, food and beverages, cosmetics, etc. The aluminum bottle caps are made of high quality special aluminum alloy materials, with excellent performance, mechanization, mass production and no pollution. The common aluminum bottle cap materials are 1000 series, 3000 series and 8000 series alloys. Among the aluminum alloy, 3105 and 8011 H14 colorful aluminium strips are mainly used for processing bottle caps. The aluminum strip for cap materials are all hard, the hardness is between H14-H24, the tensile strength is between 110-320, and the elongation is generally not less than 4.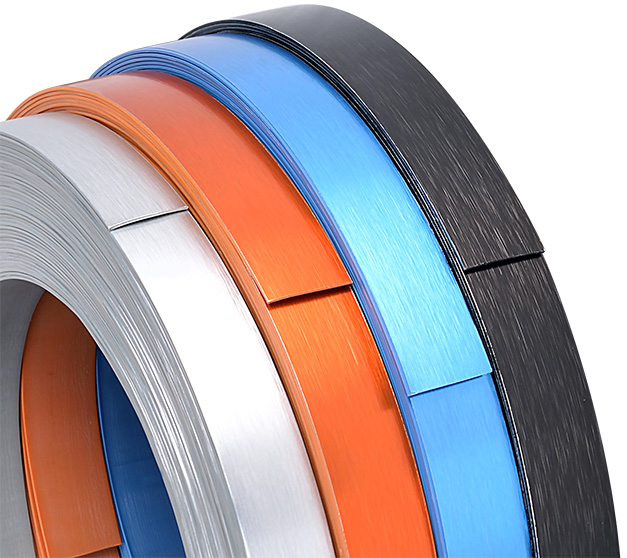 The colorful aluminium bottle cap strip material can be delicately processed by stamp aluminum stripe material, which is used for the packaging of wine, beverages (with gas, no gas) and medical and health care products, and can meet special requirements such as high temperature cooking and sterilization. The aluminum bottle cap made of 3105/8011 H14 aluminum strip for caps, and the product has a simple structure, strong adaptability and good sealing effect. 3105 and 8011 aluminium strips have good anti-rust performance, good deep drawing effect, and the strength, elongation and processing performance of the material meet the production process of bottle caps with high automatic strength, and there will be no creases or cracks during processing.

How much is the price of colorful aluminium bottle cap strip material per ton? The price of color coated aluminium strips for bottler caps should be determined according to the actual situation, such as product quality, product specifications, manufacturer strength, market supply and demand, etc., each aluminum strip manufacturer will follow similar standard to reasonable custom price. Haomei Aluminium strictly control the processing quality, structure, grain structure, composition, etc. of the products, and the aluminum cap strip product performance has reached the international advanced level.
Keywords:
colorful aluminium bottle cap strip, colorful aluminum bottle cap strip, colorful aluminium strip for bottle cap