Mirror Finish Aluminum Strip
Author: Nydia
View:
Time: 2022-04-01 01:24
With the improvement of aluminum processing technology, the quality of the mirror finish aluminum strip produced is more guaranteed. Mirror finish aluminium strip is widely used in lighting reflector and lamp decoration, cosmetic surface packaging, high-end gift boxes, mobile phones, computers, etc. The mirror polished aluminum strip in often processed by slitting the mirror finish aluminum coil into strips.

The specification of mirror finish aluminum strip are:
Series
1000 series
3000 series
5000 series
Alloy
1050、1060、1070、1100
3003、3004、3005、3104、3105
5182、5052
Temper
O、H*2、H*4、H18、H19
Thickness(mm)
0.15-3
Width(mm)
10-2650
Length(mm)
500-16000
Alloy grades used in mirror finish aluminum strip are pure aluminum and alloy aluminum:
1, The most widely used on the market should be 1050 aluminum strip, 1060 aluminum strip, 1070 aluminum strip, 1100 aluminum strip, etc., which are mainly used in building materials decoration, solar reflector, lighting and other industries;
2, Alloy mirror aluminum strip: The alloy used is about 3003 aluminum strip, 3004 aluminum strip, 3104 aluminum strip, 3105 aluminum strip, 5052 aluminum strip, 5083 aluminum strip, 5182 aluminum strip, etc.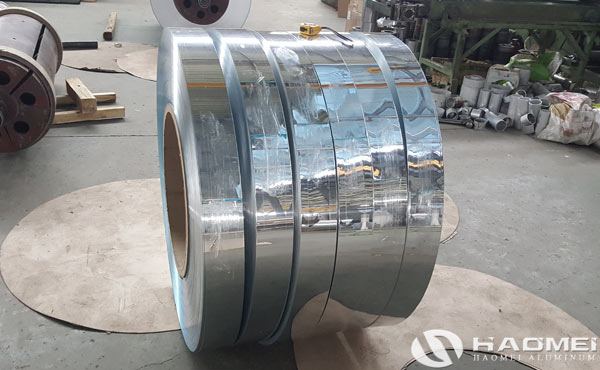 Haomei Aluminum supply have mirror finish aluminum strips and mirror finish aluminum coil products, thickness 0.15-3.0mm, single-sided film, can be cut to length or cut into aluminum strips of various widths, suitable for signs and nameplates, mirrored aluminum for integrated ceilings, ceiling materials, lamps and lanterns lampshade.

According to the continuous changes in the market and process, mirror finish aluminum strip are mainly divided into five types: sprayed aluminum mirror, filmed mirror, ground mirror, rolled mirror and oxidized mirror. Among them, the aluminum-sprayed mirror has the advantages of lower end, the anodized mirror finish aluminum have the highest reflectivity and longer life, the relative price is the highest.
Keywords:
mirror finish aluminum strip, mirror finish aluminium strip, aluminum strip